Philanthropy
YOU MAKE IT POSSIBLE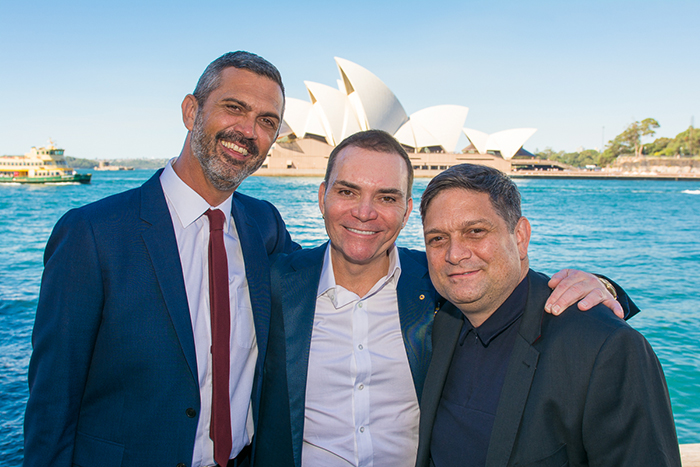 "I'm supporting the country that gave me everything and the city that I love" – Peter Freedman AM, Owner and Founder of RODE Microphones
Sydney Festival's philanthropic program offers you the opportunity to join a growing number of like-minded private donors who play a key role in the Festival's success and make a direct contribution to our artistic productions.
For further information, please contact Head of Philanthropy, Marita Supplee, on 02 8248 6510 or marita.supplee[at]sydneyfestival.org.au.
Sydney Festival is a deductible gift recipient. Sydney Festival believes that the portion of donations stipulated as tax-deductible, will be tax-deductible but makes no warranty in this regard. It is the responsibility of the donor to take its own tax advice. Donations are non-refundable.
---
WITH SINCERE THANKS TO OUR SUPPORTERS
Sydney Festival wishes to thank the following individuals, foundations and organisations for their generous philanthropic gifts over the last 12 months:
PRINCIPAL PHILANTHROPIC PARTNER
Peter Freedman AM
MAJOR DONORS
Hooper Shaw Foundation
Anthony and Suzanne Maple-Brown
Martin-Weber Family
Neilson Foundation
Roslyn Packer AC
Scully Fund
Turnbull Foundation
DIRECTOR'S CIRCLE
Anonymous
Antoinette Albert
John Barrer
Andrew Cameron AM and Cathy Cameron
Tom Hayward and Fiona Martin-Weber
Penelope Seidler AM
FESTIVAL HEROES
Robert Albert AO and Libby Albert
Altaire Productions & Publications
Larissa Behrendt and Michael Lavarch AO
Elizabeth Laverty
Dr Kathryn Lovric and Dr Roger Allan
David Mathlin and Camilla Drover
Julianne Maxwell
Seaborn, Broughton & Walford Foundation
ASSOCIATE PRODUCERS
The Arcadia Syndicate
Carol Crawford
Roslyn and Alex Hunyor
Adam and Vicki Liberman
Dr Carolyn Lowry OAM and Peter Lowry OAM
Robyn Martin-Weber
John and Jo Millyard
Villa & Villa P/L
Kim Williams AM and Catherine Dovey
Ray Wilson OAM
FESTIVAL PATRON
John and Helen Barclay
Dianne and Terry Finnegan
James Kirby and Claire Wivell Plater
Lisa Jackson Pulver
Lyndall and Trevor McNally
Mary Read
Ezekiel Solomon AM
FESTIVAL LOVERS
Paddy Carney
David and Anne Craig
Barry Fitzgibbon
Linda Herd
Lizanne and Julian Knights AO
Kiong Lee
Cheryl Lo
Fiona Long
Amanda Love
Ann McFarlane
Mary Read
Jillian Segal
Christopher Tooher
OUR THANKS TO THE SUPPORTERS OF RONA Unlocked

Antoinette Albert, Prof. L Behrendt and M. Lavarch AO, Andrew Cameron AM and Cathy Cameron, Carol and Andrew Crawford, Julie and Gavin Dennis, Camilla Drover, Tom Hayward and Fiona Martin-Weber, Robyn Martin-Weber, Linda Herd, Chris and Rhae Shaw, David Kirk MBE and Brigit Kirk, Julian and Lizanne Knights, Elizabeth Laverty, Anthony and Sharon Lee, Dr Kathryn Lovric and Dr Roger Allan, Suzanne and Anthony Maple-Brown, Julianne Maxwell, Jerry and Ali Meades, John and Sandra Pope, Mary Read, Penelope Seidler AM, Michelle and Jonathan Shein, Mark Stapleton and Leanne Hillman, Victoria Taylor, Monika Tu and Jad Khattar, Maria and Eduardo Villa.